Een praktijk casus; Onderwijs applicatie behoefte.

De onderstaande quote is van de PO raad. Scholen hebben regelmatig te kampen met achterhaalde IT. Erg jammer vinden wij dat bij Mitras. Goede IT oplossingen verlichten werkdruk en laat de leraar of coach datgene doen waar hij of zij het beste in is: lesgeven danwel coachen!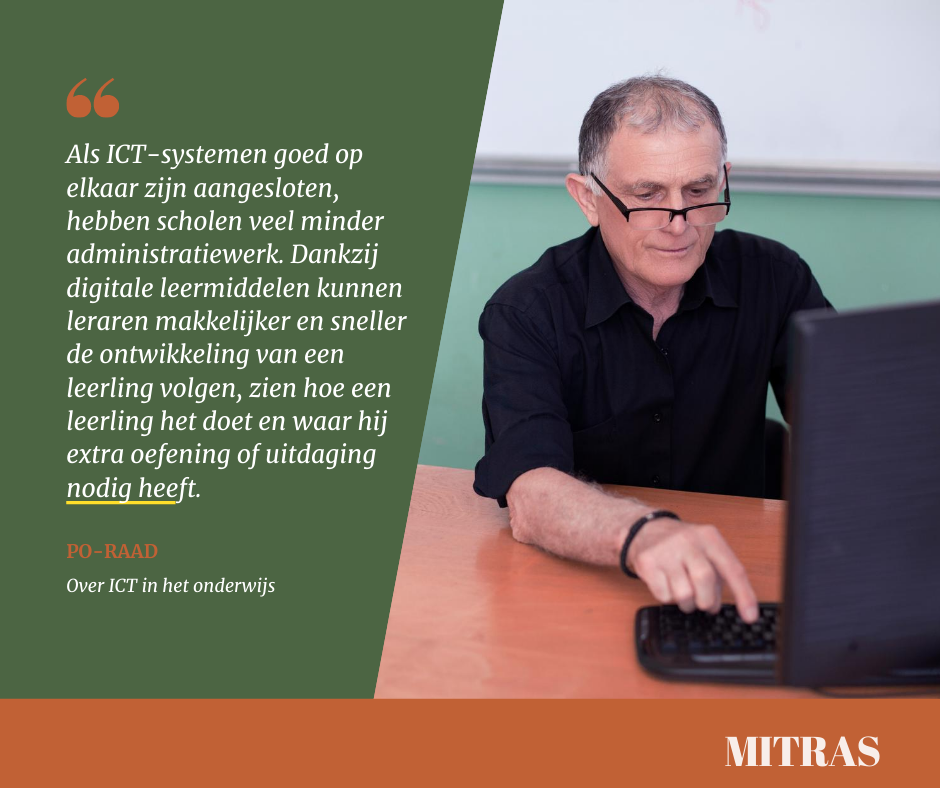 "Sprake van werkdruk als: er een disbalans ontstaat tussen de eisen die het werk stelt aan een werknemer (de taakeisen) en de mogelijkheden die deze werknemer heeft om dat werk goed uit te voeren (de regelmogelijkheden) (bron: Werkdrukwegwijzer, TNO).
Er zijn verschillende mogelijke oorzaken van werkdruk. Ook verschilt de werkdruk die iemand ervaart per persoon. Wil je goed begrijpen wat werkdruk is, dan moet je ook deze oorzaken begrijpen en herkennen.
Wij zien dat een prettiger manier van lesgeven/ coachen/ werk mogelijk is. We hebben uiterst waardevolle input ontvangen.
Dus wil je als school/ docent/ coach ook een:
– Efficiëntere communicatie
– Minder lesvoorbereiding
– Processen sneller laten werken met elkaar?
Neem dan contact via ons via deze link.
Maatwerkapplicatie onderwijs of coach

Mitras is een maatwerksoftware bouwer bij uitstek. Dus voor sofware waar standaard software geen oplossing voor biedt of omdat juist de software voor onderscheidend vermogen moet zorgen.
We zijn vooral goed in 'Digitaal Platfom denken'.
Daardoor ook geschikt voor bedrijven die vooruit willen gaan of start-ups die snel een snelle Time-to-market willen bewerkstelligen. Software is dan passend bij jouw behoefte.
Vragen?
We zitten nu in een roerige tijd. Toch biedt deze periode ook nieuwe kansen; waar een deur dicht gaat, gaat er ook 1 open.
Benieuwd hoe we jouw 'traditionele' organisatie naar een ander businessmodel kunnen brengen?
Bijvoorbeeld een kroeg die zich meer als community platform gaat presenteren? Neem dan vrijblijvend contact met ons op via bijvoorbeeld: info@mitras.tech
Mitras.tech, jouw maatwerkapplicatie ontwikkelaar uit Rotterdam
We zijn als Software bedrijf gevestigd te Rotterdam. Ook zit een deel in Spanje. Vanuit deze locaties kunnen we heel Nederland bedienen. We waren voor Covid-19 al lokaal en remote georganiseerd. Indien we dus andere expertise nodig hebben, kunnen we deze makkelijk aan het team koppelen. We kunnen elk type high-end Digitaal Platform bouwen of elk andere vorm van maatwerksoftware ontwikkelen. 
Zo werken we voor onderwijs en zorg gerelateerde content graag samen met www.tekst2000.nl.